Fractional sizes violin strings.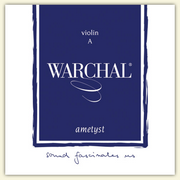 All of us who learned to play the violin sacrificed parts of our childhood for it. A huge amount of work had to be done by both, us and our teachers.
I can still remember the moment when I, being a small child, got a better violin or bow. Or when I fixed new, better strings on my violin. These were very inspiring moments in my life. For several weeks I managed to practice longer and with much more enthusiasm. Suddenly, I couldn't wait to play new, more challenging pieces.
I returned recently from www.talentsforeurope.sk where I was a member of the competition jury. I admired the very talented children who had no fear of performing in front of the audience, even though some of them had only played the violin for little more than two or three years. All of them had to cope with the modest sound potential of their violins.
As a pedagogue, I once again had the chance to understand just how much having a high quality of sound is essential for young violinists to develop.
Therefore, I insisted that everybody at WARCHAL made every possible effort to develop good violin strings for children. We used our experience to produce fractional sized violin strings that achieve the goal of producing an almost full sized sound on a smaller violin. We produce violin strings for children with our Ametyst string sets, for sizes 1/8, 1/4, 1/2 and 3/4.
While participating in the development of these strings, my memory often takes me back to my childhood when I dreamed of a better quality of sound. It will make me very happy indeed, if our violin strings help children and their teachers fulfil their goal of a perfect sound.